Shipping Info
---
How Orders are Shipped
99% of all orders ship out the same day if it is placed before 3:00pm EST. Depending upon the size of the order, orders are shipped via UPS Ground,  USPS Priority Mail, or delivered by Truck. All shipping options and rates can be viewed at the Shipping Method Page of the your Check Out Screen.  Orders $75.00 or more qualify for $5.00 Super Saver Shipping to most Contiguous States.
Orders that are shipped by $5.00 Super Saver Shipping are shipped by either of the above carriers in accordance to order weight. Orders can be shipped by your preference of a carrier but certain additional rates may apply. 
---
Transit Times
All transit times are counted by business days (Monday through Friday) and generally take between 2 to 4 business days depending upon the destination of the order. Over 75% of the U.S. Population is serviced within 3 days. If in need of expedited shipping, Bulkfoods offers 1 day, 2 day, and 3 day Expedited Shipping Services.  Due to an extreme shortage of truck drivers some orders may currently take a little longer.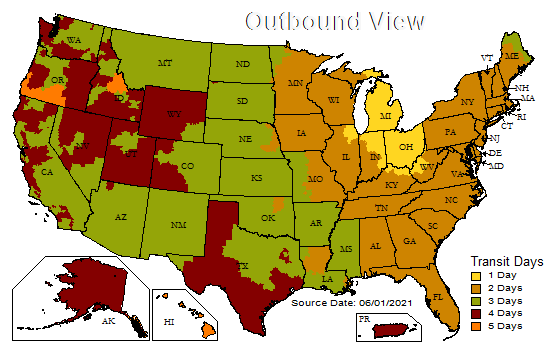 *Please note that during Peak Holiday Shipping Season, packages can be delayed. For complete details about Holiday Shipping and full list of dates in which freight carriers do not operate see our Holiday Shipping Information.*
---
Alaska, Hawaii, & US Territories
Shipping Rates & Travel Times can be located at the Shipping Method Page of the Check Out Screen and are based upon weight and zip code. Transit times generally take around 2-3 Business Days when selecting Priority Mail. For Larger Orders over 1000lbs, We work with a number of freight forwarders who specialize in servicing Alaska, Hawaii, and other U.S. Territories - please inquire with Customer Service for me Details. $5.00 Shipping to freight forwarders within the 48 Contiguous States for orders over $75.00
---
Shipping To Canada 
Please review Canada Shipping Info for more details about cross-border shipping.
---
International Shipping
We ship internationally using a diverse network of freight carriers. International shipping rates can be viewed at the Shipping Method Page of the Check Out Screen when creating an order. We offer $5 shipping to Freight Forwarders within the U.S. (Contiguous 48 States) for orders over $75.00. Please check out our International Shipping Page for more information including a list of highly reputable freight forwarders who may service your area. 
---
Military Shipping - APO / DPO / FPO
USPS Priority Mail delivers to all US Military APO, DPO, and FPO packages. The shipping cost is automatically calculated on the Shipping Method Page of the Check Out Screen when creating an order. View our Military and Diplomatic Shipping page for more details including the correct format for entering your APO, DPO, or FPO shipping address.
---
Heat Sensitive Items
We carry a large line of Heat Sensitive Items that may melt during shipping in hot summer months. But don't worry! We have years of experience to make sure you receive your order in a timely manner and in tip-top shape. We are the only company that is able to ship out Heat Sensitive Items during hot summer months without high air shipping rates due to our sophisticated software and monitoring of your package routes. For complete information in regards to Heat Sensitive Items please view our Heat Sensitive Items Shipping page.
---
Shipping Terms
Please see our complete list of Terms for Shipping