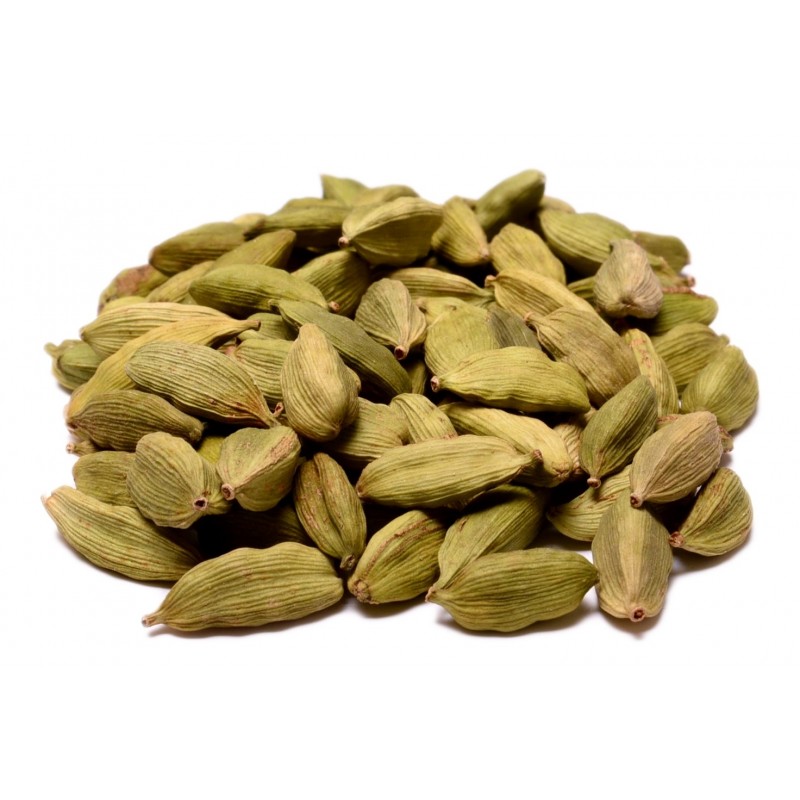  
Cardamom Green Whole
All natural Whole Green Cardamom Spice Pods. Cardamom is one of the most luxurious spices in the world boasting a complex flavor profile consisting of sweet/floral and earthy spicy flavors. The fragrance that illuminates from a bag of Cardamom is bright, refreshing, with a punch of citrus zingyness. The overall flavors and fragrance the Cardamom provides makes it a highly versatile spice that can be used savory and sweet recipes. 
Ingredients: Whole Green Cardamom pods
---
Typically Used In: Highly Versatile. Used in Savory and Sweet. Popular in Indian, Middle Eastern, and Scandinavian Cuisine. Used in Rice Dishes, Curries, Roasted Meats, Veggies, and More! Infuse into Coffee and Teas! Add to Desserts, Ice creams, and other Sweets. 
---
Benefit of Whole Green Cardamom Pods: Cardamom in itself is already a highly versatile ingredient, but purchasing Whole Green Cardamom Pods adds numerous advantages.
1) Freshness - Oils in spices is where all the flavor is located. The black Cardamom seeds inside of Green Cardamom Pods are loaded with flavorful essential oils. Purchasing Whole Cardamom pods allows you to grind/crush fresh cardamom on demand, giving you assurance of that pungent fresh cardamom flavor. The Green Cardamom Pods can even be toasted before use to release the essential oils to unlock more flavor!
2) Versatility - Green Cardamom Pods ad additional versatility. They can be thrown into teas, coffees, stews, or other liquids to steep and have its flavor infused. When done, simply strain the pods out. You can Toast them to unlock more flavor, or grind the seeds fresh as needs. The green shells of the cardamom can even be reused to steep into tea. coffee, or any other beverage to provide an amazing depth of flavor. Seriously try throwing a couple shells into a black coffee!
Specific References
upc

084277423786

Heat Sensitivity Temp °F

None

CALIFORNIA WARNING: Click to read California Prop65.